Cooking for Stressed Teenagers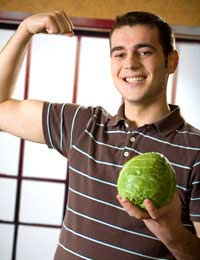 Whether it's a failed exam or a failed romance, teenagers can spiral from stress to depression. Good food can help destress an uptight teenager.
Catering to Examination Stress
The department of nutrition at King's College, London found that young people produced better verbal reasoning and memory test scores if they had diets high in iron. Good iron boosters include: red meat and eggs, leafy dark green vegetables and fortified breakfast cereals.
Snacking is something many parents try to discourage, but during the revision period, snacking on healthy foods can actually help performance. This is because the brain uses up lots of glycogen when it's working at its best, and glycogen is best supplied through the consumption of complex carbs. Good snack foods for brain power are: bananas, dried fruit and bagels.
Breakfast can be make or break for teens who are already worried about making the grade – the exam results of 500 schoolchildren in Israel were analysed and this revealed that the ones who had eaten at least a bowl of cereal on the morning of the examination did better than those who ate nothing. Boosting complex carbohydrate intake by making breakfast into beans on toast could improve performance even more.
De-stress Foods
Stress doesn't just arise at exam times. Teenage life is difficult to navigate at best, and an emotional crisis can easily tip over into long term stress. Eating well can really help a teen to survive such tumults.
Salad is a favourite food of teenage girls, and it can also have a calming effect on a teen in a tizzy – the white sap found in lettuce stalks contains a natural sedative called lactucarium, while celery has a phytonutrient called phthalide which has mild tranquillising and anticonvulsant effects which is why it has been used for centuries in herbal remedies to calm disturbed patients.
Almonds contain lots of B vitamins and magnesium, both of which are necessary for the production of serotonin which serves to regulate moods and relieve stress. They're also high in zinc, which helps fight the negative effects of stress such as pimples and poor sleep and vitamin E which is an antioxidant that hunts down and neutralises the free radicals that have a strong relationship both to stress and heart disease.
Almost any kind of fish, but especially oily fish, is packed with more of those B vitamins, particularly B12 which is vital to synthesis of the serotonin. One cause of depression is actually a deficiency in B12, so ensuring your teen gets enough fish in their diet can be a real investment in their long-term mental health.
Work With Teens
The average teenager might want to have more say in what they eat, as an act of teenage rebellion, and you can use this behaviour to encourage them to improve their cooking skills.
Begin by inviting them to suggest meals to cook together – if they are particularly keen on a different cuisine such as Chinese or Italian why not propose a trip to a specialist market or cook store to stock up on ingredients? A change of scenery and a chance to spend a little money is good for all of us, and can actually help a teenager to gain perspective on their stress by doing something familial and fun.
When inviting a teen to help you cook, don't pick a time when you're on a tight deadline because that just increases your stress level and theirs. Instead choose a weekend afternoon when everybody can kick back and relax.
You might also like...