Fridge Cakes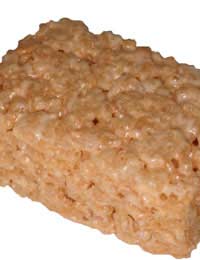 Fridge cakes are just what they say they are! No-cook cakes, they don't need baking although most involve melting ingredients. They're an easy way for kids to learn cooking skills such as weighing, whisking and separating eggs, but without the need for a hot oven.
The easiest way to crush biscuits is to put them in a plastic bag and bash them - carefully - with a rolling pin.
Melting can be done either in a saucepan or in a microwave.
Kate's Chocolate Fridge Cake
3 oz butter
1 oz castor sugar
1 tablespoon golden syrup
7 oz dark chocolate
8 oz digestive biscuits
Crush the biscuits. Melt together the butter, sugar, syrup and chocolate. Add the crushed biscuits. Place in a baking tray and press down to level. Allow to cool and then leave in the fridge for 3 hours (if you can resist it for that long). Cut into squares to serve.
For an extra rich treat, top with melted milk chocolate.
Square Krisps
4 tablespoons golden syrup
1 tablespoon caster sugar
1 tablespoon margarine
3 oz popped rice cereal
Melt the syrup, sugar and margarine gently in a pan. Bring to the boil and boil for about a minute.
Put the popped rice in a large bowl and stir the syrup mixture through it, mixing well. Put in a greased tin and press down to level. Leave in the fridge for about 30 minutes and then cut into squares.
Strawberry Finger Gateau
A very simple but attractive gateau that children can assemble easily with very little help.
30 sponge fingers (as used for trifles)
1 pint double cream
About 2 lb fresh strawberries
Fruit juice or a fruity liqueur
Icing sugar
Whip the cream. Arrange 10 of the sponge fingers together on a serving dish. Sprinkle with a little fruit juice or liqueur. Spread with one third of the cream, topping with fruit. Put 10 fingers on top, spread with cream and strawberries. Repeat for a third time. Dust generously with icing sugar. Leave to stand, covered, in the fridge for at least 1 hour before serving.
Banana Cheesecake
6 oz chocolate biscuits
2 oz margarine
2 bananas
Rind and juice of ½ lemon
4 oz caster sugar
8 oz full-fat soft cheese
2 eggs, separated
¼ pint soured cream
½ oz powdered gelatine
5 tablespoons water
Crush the biscuits. Melt the margarine and mix with the crushed biscuits. Press into an 8" round loose-bottomed cake tin. Leave in the fridge to chill while you prepare the filling.
Mash the bananas with the lemon rind and juice, and 2 oz of the caster sugar. Add the cheese, egg yolks and cream and beat well.
Dissolve the gel in the water (follow instructions on the packet or put water in a bowl over a pan of hot water and stir gelatine in until it dissolves). Beat into the filling.
Whisk the egg whites until stiff - you should be able to make peaks that will stay up. Gently whisk in the remaining caster sugar. Fold this meringue mix into the filling. Pour onto the biscuit base and leave in the fridge for 3-4 hours to set.
Grown-ups Cake
28 small ginger snap biscuits
½ cup pistachios, shelled, skinned and halved
1 lb white chocolate (use best quality)
¾ cup unsalted butter
1 tablespoon golden syrup
1 tablespoon rum
Line a loaf tin with greaseproof paper. Crush the biscuits, leaving some bigger chunks. Place in a bowl with the pistachios.
Melt the chocolate, butter and syrup in a saucepan. Add the rum and mix with the biscuits and nuts. Tip the mixture into the tin and press down well. Leave to set in the fridge for about 8 hours or until set.
Allow it to come to room temperature before serving in slices.
You might also like...