Campfire Cooking With Kids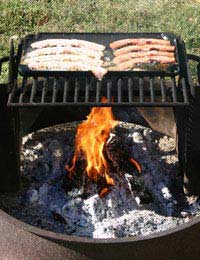 Kids love campfires. Cooking food out of doors under the stars is much more exciting than eating indoors. It's not only more fun campfire food, even though it's charred around the edges, tastes better.
Make sure you've got plenty of foil and some matches, as well as the food you're going to cook. And keep a bucket of water handy to douse over-enthusiastic flames.
So whether it's a campsite for the night, or they've pitched their tent in the back garden, get out there with them and start rubbing the sticks together!
Breakfast in a Pan (for 1)
What you need:
2 rashers bacon
2 eggs
1 slice bread
Pepper
What you do:
Fry the bacon until crisp then wrap it in foil and keep it at the edge of the fire. Fry the bread in the bacon fat in the pan. Add it to the bacon to keep warm. Scramble the eggs, with a seasoning of pepper, in the bacon pan until lightly cooked. Return the bacon and bread to the pan and eat!
Tuna Tommies
What you need:
1 large tomato per person
Tinned tuna, drained
Spring onions
Cheddar cheese
What you do:
Cut the top off the tomato and scoop out the inside. Discard the seeds but mix any flesh with some tuna and some chopped spring onion. Use this mixture to stuff the tomato. Sprinkle with grated cheese or top with a slice of cheese. Wrap securely in foil and place in the coals until heated through and the cheese is melted.
Pizza Pocket
What you need:
Pita bread
Pizza tomato topping
Cheddar cheese
What you do:
Open the pita pocket. Spread one side with tomato sauce. Sprinkle in some grated cheese (or slices of mozzarella). Wrap in foil. Cook over the coals until heated through – about 20 minutes.
Add other fillings: mushrooms, peppers, tuna, salami, olives.
Barbecued Corn
What you need:
What you do:
Cut a cob in half. Place on a piece of foil. Add a knob of butter and wrap tightly. Cook on the fire for about 20 minutes or until cooked to your taste.
Potatoes-Never-Tasted-So-Good
What you need:
Baking potato
Onion
Cheese
Oil
Salt
What you do:
Brush the potato with oil and rub in salt. Cut slices ½" apart (not the whole way through) and place a thin slice of onion in each gap. Wrap tightly in foil and cook in the coals for 20 minutes. Remove from the heat and carefully unwrap. Place a slice of cheese on top of the potato and wrap it up again. Return to the heat for another 20-25 minutes until the potato is soft.
Campfire Chicken
What you need:
Chicken breast, skinned
Slice ham
Slice cheese
Barbecue or salsa sauce
What you do:
Brush a double-layer sheet of foil with oil. Make a cut in the chicken breast deep enough to pop in a slice of ham and a slice of cheese. Press the breast together and place on the foil.
Pour over some barbecue sauce. Wrap securely and cook over the fire for 40 minutes, turning occasionally. If you don't have a grid to cook on, put a rock close to the fire edge.
Foiled Dinner
What you need:
What you do:
Brush a double-layer sheet of foil with oil. Place the burger in the middle. Finely slice the potato, onion and carrot. Place the vegetables on top of the burger. Wrap the foil securely. Cook on the coals, turning occasionally, for about 30 minutes or until well-done. Serve with ketchup.
Banana Fluff
What you need:
Banana
Mini marshmallows
Chocolate chips
What you do:
Don't peel the banana but cut into it, lengthways. Pull it apart very slightly. Stuff marshmallows and chocolate chips into the gap. Wrap the banana securely in foil and cook on the coals until heated through and the chocolate has melted. Use a spoon to eat direct from the peel.
Alternatively, you can skewer the banana and hold it over the fire until the filling has gone gooey.
Kids And Cooking is sponsored by Purely Energy, who have funded a lot of our content. If you are looking for a low cost business energy supplier, take a look at their website.
KIDS AND COOKING IS FOR SALE.
This website is for sale [more info].
You might also like...