Eating Out With Kids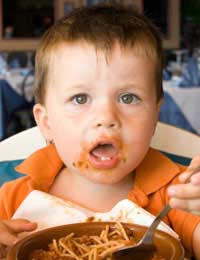 If you've visited Europe you'll know that restaurants take a different view of children from the ones that seem to be prevalent in Britain. In Spain and Italy especially, children are welcomed in most restaurants, and waiters make an extra special fuss of kids and babies. It's not like that in Britain. Until the late part of the twentieth century, British children were meant to be seen and not heard, and their parents certainly didn't take them to restaurants.
Even today, there are few restaurants that are truly child-friendly. In a survey in 2004, Tommy's, the children's charity, discovered that 35% of parents interviewed had been made to feel unwelcome in restaurants or shops. So, really, is it worth taking your kids out to eat? And if you do, should you stick to McDonalds or a pizza place?
While fast food chains serve a purpose, getting your kids used to eating in 'real' restaurants is also to be recommended. At some point there's bound to be a family celebration – grandparents' anniversary or great-aunt's birthday – and if you're going to enjoy it at all, you'll need to be comfortable in the knowledge that your kids will know what's expected of them and aren't going to show you up totally!
And the best way to ensure this is to get them used to eating out at an early age. It doesn't have to be anywhere expensive or a grand meal, just an opportunity to begin to place into them some ideas of social etiquette. At home, you'll already be encouraging older toddlers to say please and thank you, to sit at the table, and to use cutlery; eating out is just an extension of that learning.
Choosing a Restaurant With a Baby
You have a young baby and suddenly you discover that your life has changed in ways you hadn't even anticipated. Something as simple as going for lunch with a friend involves major planning! Lunch is going to coincide with baby's feedtime: does the restaurant you're visiting encourage breast-feeding? Does it even allow it in the main eating area? Or will you be asked to go and sit in the toilet? Does it have facilities for bottle-warming? Is there room near the table for the baby's carry-seat?
Find out the answers to these questions by visiting or phoning the restaurant, or checking on its website. Visiting in person is best as you'll be able to judge attitudes as well as facilities! Alternatively, just as you'd listen to friends' recommendations before you had babies, ask other young parents you've met through the NCT or baby groups where they've eaten and which ones they recommend.
Choosing a Restaurant With a Toddler
For a slightly older child, find out if the restaurant provides high-chairs. If you've always been in the habit of eating out a lot and you want to continue, or you're going on holiday and will be eating out a lot, think about buying a booster seat. There are many available today that are portable and can be fitted to most chairs.
With a child who will sit at the table, it might be a good idea to choose a restaurant that doesn't fill the table with crystal glasses – or even candles or flowers. Or one that will be happy to move them away from your table. It will be less stressful for you if you don't have to keep moving things out of reach or warning your child not to touch.
The Menu
Restaurants can be divided into three sorts:
Those with a children's menu that consists of chicken nuggets and pizza
Those that offer child-sized portions of what is on their menu
Those that make no concessions for children
Make life easy for yourself: choose what fits in best with your child at that moment in time. If you know that there is no way she is going to eat potatoes and meat unless completely covered by tomato ketchup, opt for the pizza-nuggets restaurant; if your child is adventurous and willing to try new tastes, go for the place offering child-sized portions. Avoid the child-unfriendly restaurant at all costs!
Of course, your adventurous child might choose the day you visit the restaurant to decide he only likes chicken nuggets and chips, or your picky eater may fancy your lasagne. The one thing you can predict about kids is that they are unpredictable!
What to Take to the Restaurant
Take things to keep the kids occupied while waiting to be served or while others are finishing their meal: colouring books and pencils – not felt pens if there's a tablecloth on the table! – puzzle books, a favourite cuddly toy, or a computer game handset for older kids.
Don't plan on sitting around chatting sociably at the end of the meal. You don't do that at home – not to any great extent – so your kids won't be used to it and will expect, quite reasonably from their viewpoint, to be up and going as soon as they've finished eating.With a little bit of encouragement and patience, your child will soon learn to be the perfect restaurant customer, but if all doesn't go well, don't worry. Helping your baby develop into a well-rounded adult is an ongoing process.
So if your son knocks a bottle of red wine over the white tablecloth, your daughter points and asks loudly why that lady has so many chins, your toddler refuses to eat his meal because they've put his peas next to his potatoes instead of on top, and your baby vomits over the waiter's shoe, smile, pay the bill – and don't go back to that restaurant!
You might also like...