Lunchbox Ideas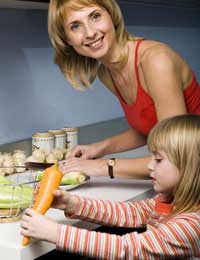 In spite of Jamie Oliver's best efforts to improve the school canteen system, lots of kids still opt for a packed lunch. If your child is one of these, here are some things to remember when preparing a lunchbox:
Kids only get 15-20 minutes to eat their lunch during which time they'll be busy talking to their friends and being distracted so include easy-to-open packages or things that don't need peeling.
Pack small helpings for small children who don't eat a lot at one sitting.
Avoid pre-processed or packaged goods; many are high in sugar or salt.
The same goes for fruit flavour drinks and yogurts that include very little fruit and lots of sugar.
You don't know where your child's lunchbox will be stored; in warm weather choose the ingredients carefully.
Putting a drink in the freezer overnight and then packing it in the lunchbox will have a cooling effect on the food – and the drink will have thawed by lunchtime.
Crudités and Dip
Prepare fruit and vegetables for dipping. Slice red pepper, apple, cucumber, carrot, celery, pita bread. Wrap in damp paper towel to help retain moisture. Accompany with hummus or guacamole (see recipes on Picky Eater page)
Sunny Sandwich
What you need:
2 slices granary bread
Pesto
Sun-dried tomatoes
What you do:
Use a low-fat spread on one side and pesto on the other. Chop a sun-dried tomato and scatter over the sandwich. Press together. Cut off the crusts making the sandwich as round as possible. Cut into quarters.
Sort-of-Waldorf Bun
What you need:
1 granary or wholemeal bread roll
A chicken slice or some chunks (from your own roast or the supermarket)
1 apple
Low-fat mayonnaise
What you do:
Cut the bun open and use a low-fat spread on one side and the mayonnaise on the other.
Slice the apple into thin slivers. Place the chicken and apple in the bun and press together.
Accompany with a washed stick of celery, cut into chunks, and a handful of walnuts.
Fruity Salad
What you need:
1 apple
1 stick celery
A handful raisins
A handful seedless grapes
For the dressing:
½ tablespoon low-fat mayonnaise
½ tablespoon lemon juice
What you do:
Wash, core and dice the apple. Cut the celery into small pieces. Mix all the ingredients together.
Fishy Pot
What you need:
6 oz pasta shells
1 tin tuna in water
1 tin sweetcorn
1 red pepper
For the dressing:
4 tablespoons low-fat crème fraîche
1 tablespoon tomato ketchup
Juice of 1 lemon
What you do:
Cook the pasta as directed on the packet. Drain the tuna and sweetcorn. (You can cook frozen sweetcorn if you prefer.) De-seed and finely dice the red pepper.
Make the dressing by combining the crème fraîche, tomato ketchup and lemon juice. Mix all the ingredients together.
This makes enough for 4 and will keep for a day or 2 in an air-tight container in the fridge.
Vary the vegetables. Use cooked peas, cucumber chunks – or add chopped nuts or raisins.
Mini Chelsea Buns
What you need:
10 oz strong white flour
½ teaspoon salt
2 oz margarine
1 packet yeast
5 fl oz milk
1 egg
For filling:
1 oz melted margarine
3 tablespoons caster sugar
3 tablespoons currants
1 teaspoon mixed spice
For glazing:
2 tablespoons sugar
3 tablespoons water
What you do:
Preheat oven to 220oC, gas mark 7. Grease a baking sheet.
Sieve the flour and salt together into a bowl. Rub in the margarine. Stir in the yeast Warm the milk to hand-heat and beat the egg. Add to the flour. Knead all together for about 10 minutes to a soft smooth dough.
Cover with a damp cloth and leave to rise in a warm place until doubled in size.
Knead again then roll out to a rectangle about 8" x 14". Brush with melted margarine. Sprinkle with sugar, currants and spice.
Beginning from the long side, roll it up swiss-roll-like. Cut the roll into small, equal-sized slices: there should be about 14.
Place the buns on the baking sheet, cover and leave in a warm place until doubled in size.Bake for about 20 minutes.
While they're cooking, make the glaze. Dissolve the sugar in the water over a low heat. Bring to the boil and boil rapidly for about 2 minutes. Use to brush the buns when they're cooked and before they cool.
You might also like...