Main Meals for Kids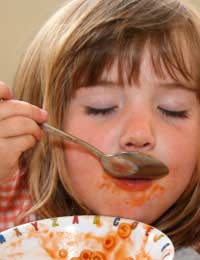 It's a good idea to get your kids used to your cooking as soon as you can. If you've been taking our advice (Fresh and Simple Food for Babies) they should have got a taste for your home-cooking already!
From about 12 months, they can eat more or less what you do, only mashed or minced. Avoid salty or overly-spicy foods but introduce them to plenty of new flavours and textures.The big difference is that their tummies are a lot smaller than yours so little and often is still the key.
In the first years of life, children grow quickly and are very active: they need plenty of calories and nutrients. You should ensure that their diet includes:
Full-fat milk and dairy foods
Meat, eggs and fish
Bread, pasta, rice
Fruit and vegetables including starchy potatoes
Nutritional Advice:
After the age of 2, your toddler can have semi-skimmed milk but shouldn't have skimmed until he's 5 as it doesn't contain the calories needed
A toddler's stomach doesn't deal very well with a lot of fibre so don't go mad on the wholemeal varieties
Older boys can have up to 4 helpings of oily fish a week but girls shouldn't have more than 2
Limit the amount of salt – in your diet as well!
Don't be tempted to add sugar or honey to your toddler's food in an attempt to encourage her to eat it
Raw or partially cooked eggs can carry Salmonella – make sure both the white and yolk are solid
Whole nuts pose a danger of choking for under-5s
As we said, it's best and easiest to getting baby eating what you're eating as soon as you can – when she's ready. If you've any doubts or questions about the suitability of your food, or whether your baby is ready, consult your health visitor.
Very early on you can offer her some of your 'Sunday dinner': for example, carrots, broccoli and potatoes mashed together. Get into the habit of adding salt to your food when it's on your plate – and if it's needed - rather than in the cooking process.
Remember if you use stock cubes or ready-prepared gravy, they will contain a lot of salt so use them sparingly.
Tommy Pasta
What you need:
For the sauce:
1 onion
Olive oil
1 tin tomatoes
Dried basil
Fresh basil leaves
Mild cheese
What you do:
First prepare the sauce. Peel and finely chop the onion. Sauté in a little olive oil until soft. Add the tomatoes and dried basil. Mash them. Bring to the boil and simmer for 20 minutes.
While the sauce is simmering, cook the pasta as directed on the packet. Drain.
Grate some cheese.
Pour a spoonful of sauce over the pasta and mix it together. Top with the grated cheese and chopped basil leaves.
Freeze the remaining sauce in an ice cube tray.
Older kids: add celery, carrot and garlic to the sauce; then add lean mince beef and more herbs.
A Fishy Dishy
What you need:
1 skinless cod loin
Olive oil
1 small leek
1 small courgette
A few florets of broccoli
4 ripe tomatoes
Mild cheese
What you do:
Peel the tomatoes. (To do this put them in a heatproof bowl and cover them with boiling water. Allow to stand for 3 minutes then drain and rinse under cold water. When they're cool enough to handle, you should find that popping the skin with a knife tip will lead to the peel coming off easily.) De-seed and dice them.
Wash and finely chop the leek, courgette and broccoli. Sauté in a little olive oil until softened. Add the tomatoes and heat through.
Put the fish into a small saucepan and cover it with water. Bring to the boil then turn down the heat until the water is simmering very gently. Allow the fish to cook for about 5 minutes or until it is cooked. Drain and flake. There shouldn't be any but check very carefully for bones.Mix the fish and the sauce and serve topped with a little grated cheese.
Older kids – serve the fish whole on a bed of vegetables, with a herby tomato sauce and rice. Top with grated cheese and pop under the grill until it's brown and bubbling.
You might also like...
This is a brill website as I have madethe Tommy Pasta and The Fishy Dishy. It is lush although not enough for me and the family
Dilly Dora :}
- 15-Dec-13 @ 6:57 PM