Teaching Kids Where Food Comes From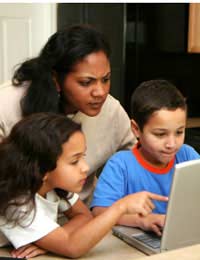 Where did your dinner come from last night? If you asked your children would they say 'the supermarket,' 'the kitchen,' or 'McDonalds!'?
Everything starts somewhere, even a Big Mac. Food plays a huge role in today's society. We are more aware than ever of the options, the choices we can make; we know that while obesity is a problem in some parts of the world, in others people are still starving.
As parents we want to help provide our children with the information they'll need to make good choices about what they eat. Part of that will be helping them to choose to eat healthily (see Making kids aware of healthy eating) but even before eating, there are decisions to be made when shopping for food.
But first let's find out exactly where the food in the kitchen has come from.
When the kids are on school holidays and it's raining and they're bored, you can use the time in a way that will be fun and of benefit. Education in an unrecognisable form that involves cooking or eating can usually be slipped by the most avid anti-learner!
Where Does it Come From?
Gather together a variety of food items from your pantry. Most packaged food states the country of origin, so ask your children to read the labels and to write down the place names. Visit your local greengrocer's and, again, ask your children to make a note of where the fruit has come from. (You could buy some fruit they've not had before too!) Then using a large world map, find all the countries they've listed and stick on coloured labels to show what food came from where. They may be surprised to find that their food has come from all ends of the world.
Some of the everyday foodstuffs that they're used to will have come a very long way indeed. Tea, coffee and chocolate all have their origins in hot countries. You might like to visit the library and find out more about how the food is grown and produced, or they can look it up on the internet.
Once they're aware of where the food is from, you can look at some issues.
Fairtrade
Most supermarkets these days offer fair-trade tea, coffee and chocolate: you can identify it by the Fairtrade logo it will carry. Until recently many buyers took advantage of small farmers in poor countries and didn't always pay them a fair and proper price for the food they produced. The Fairtrade organisation was set up to promote the idea of giving the person who produced the food a fair price for his work. That may seem obvious and the right thing to do but even today many farmers overseas are obliged to sell their goods at low prices.
Local Produce
Greengrocers and other small shops are the best places to find locally-grown produce, although many supermarkets now stock regional goods. While some goods can only be grown in a different climate, most ingredients for the staples of life can be grown or produced in this country.
But what are the benefits of using local produce?
Local food is fresher. A cabbage from Jenkins' farm down the road can be harvested, transported to the shop, sold to you, cooked and on your table in far less time than a cabbage from Spain.
Local farmers often grow more varieties, some of which are very old, and which have more flavour and character than the mass-produced standard size and shape goods that are in the supermarket.
You know exactly where the food comes from and you can choose to use a farmer you know, or one who is organic or free-range.
You are supporting the local economy. Many small farms in particular are finding it a struggle to make ends meet. Buying from them helps them stay in business.
Environmentally, buying locally makes sense too. Carbon dioxide emissions are less as the food doesn't need to travel so far, and less packaging is needed.
Organic
Organic foods are produced without the aid of pesticides or chemical growth stimulants. While all the chemicals used have been approved by government scientists, some people prefer not to eat food that been chemically treated in any way. Fortunately more and more producers are now turning to an organic way of farming, and you'll see foods clearly marked in ever-growing sections in the supermarkets, giving those who want organic more choice.
Free Range Eggs
Free range eggs come from chickens that are allowed to roam freely during the day. At night they return to the hen house, which, even though it might be home to thousands of hens, is spacious and comfortable (if you're a hen!) One in three hens in Britain is now free range and, gradually, supermarkets are phasing out eggs that aren't.
Make Choosing Food Fun!
Find out where and when your local farmers's market is held – most towns and villages have one quite regularly.
Visit the local WI market for a range of home-grown and home-made goods.
Find out if any farms close to you have public open days. Many cities have city farms that kids are encouraged to visit.
Spend a day visiting a chocolate factory. Enjoy some samples!
Look out for food fayres featuring visiting food producers from France or Germany.
You might also like...
I like this website it helps alot with my children homework
DISNEYangle
- 9-Dec-12 @ 5:01 PM