Great Chicken Dishes for Kids to Make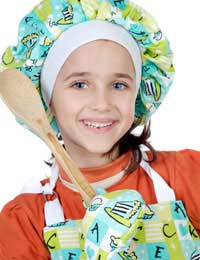 Next time the kids say 'I'm hungry! What's for dinner?' point them in the direction of the kitchen and tell them to get their aprons on.
With a little help from you, they'll soon be creating wonderful chicken dishes that all the family can enjoy. And from there they can move on to experiment with other poultry.
Chicken is a great meat for kids to practise their cooking skills with. As well as being reasonably-priced and easy to get hold of, it's versatile, tasty and doesn't take too long to cook. Plus – if the skin is removed - it's a low-fat meat.
The only important thing to remind them, is to check that the chicken is cooked right through for the good of their – and your - health.
We've got three simple recipes here, each using chicken but ending up with completely different meals.
Chicken Italian-Style
What you need:
4 boneless skinless chicken breasts
3 eggs
1 cup parmesan cheese
1 cup breadcrumbs
Olive oil
A little extra butter
What you do:
Preheat the oven to 180ºC, gas mark 4. Grease a baking sheet
Using a blender, make the breadcrumbs from bread at least a day old (it's easier to crumb the bread when it's not completely fresh). If you prefer, it is possible to buy ready-made breadcrumbs from the supermarket
Mix the breadcrumbs with the parmesan cheese
Beat the eggs
Wash the chicken pieces and dry them with kitchen towel
Place them between 2 sheets of greaseproof paper and flatten them slightly using a rolling pin. Dip the chicken in the egg and then in the breadcrumb mix so that it's well-coated
Place the chicken on the baking sheet, drizzle with a little oil and put a dab of butter on each one
Cook for about 45 minutes
Chicken Casserole
What you need:
4 boneless skinless chicken breasts
1 onion
1 stick of celery
2 oz mushrooms
A can of condensed chicken soup
Oil
Pepper
What you do:
Heat the oven to 180oC, gas mark 4.
Cut the chicken into evenly-sized chunks. Slice the onion and the celery finely. Wash and quarter the mushrooms.
Heat a spoonful of oil in a frying pan. Add the chicken and cook for a few minutes, turning it over, so that it is nicely browned. Remove the chicken from the pan and put it in a casserole dish.
Add the onion and celery to the frying pan and cook over a medium heat until soft and not browned. Add them to the chicken along with the mushrooms and the soup.
There should be enough liquid to cover the other ingredients but if not, top it up with chicken stock or water if necessary. Season with a little pepper.
Cook for 30 minutes or until the chicken is cooked through.
As an alternative use mushroom or asparagus soup (add asparagus tips instead of the mushrooms).
Chicken Wings in Barbecue Sauce
What you need:
For the marinade:
1 onion
¼ cup soy sauce
¼ cup sunflower oil
½ cup white wine
1 teaspoon dry mustard
1 clove garlic
¼ teaspoon sugar
½ teaspoon celery salt
½ teaspoon pepper
What you do:
Mix all the marinade ingredients together and put them in a baking dish. Add the chicken wings and stir together, making sure the wings are well-coated. Leave to stand, covered, for an hour or two, or longer preferably.
Bake in the preheated oven at 180oC, gas mark 4, for 50 minutes – 1 hour or until cooked through.
You might also like...
I was looking for something else! But these recipies are good aswelll
chlo-lo 1998
- 2-Apr-11 @ 7:32 AM