Making Vegetables 'Cool'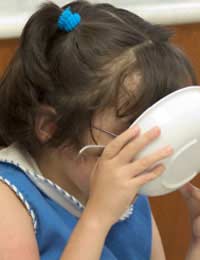 Some kids seem to be born with vegetable radar. They take an instant dislike to vegetables, turning up their noses if you even try to suggest they might like some yummy broccoli! Even in homes where kids have been brought up to eat veg, given the opportunity, they'll turn it down, either because of peer pressure or developing taste buds.
But you know the importance of vegetables in their diet, and you want to give them the best start by introducing them to all the wonderful varieties of veg that are easily available today.There are plenty of ways to make vegetables interesting and 'cool'!
Let's start off with one of the simplest. What could be funkier on a cold winter's day than a bowl of spicy butternut soup and a chunk of crusty bread?
Anna's Butternut Soup
What you need:
1 large butternut squash
1 onion
1 red chilli
1 tin coconut milk
Vegetable stock
Olive oil
Salt & pepper
½ lime
Fresh coriander
What you do:
Peel the squash, remove the seeds and cut in 1" cubes. Peel and finely slice the onion.
Remove the stalk and seeds from the chilli and chop finely. Wash your hands after handling the chilli and don't touch your eyes!
Sauté the squash, onion and chilli in a little olive oil for 2 minutes then lower the heat, put on a cover and let the vegetables sweat for 10-15 minutes.
Add the coconut milk and vegetable stock to the pan. You need enough liquid to just cover the veg. Bring to the boil and simmer for 30 minutes. If the level starts to drop, add more stock.
Season well with salt and pepper, and add a squeeze of lime. Whiz in a blender until smooth.
Serve sprinkled with chopped coriander.
Vegetable Kebabs
What you need:
2 medium-sized courgettes
2 red peppers
12 small mushrooms
8 shallots or 2 medium-sized onions
For marinade:
3 tablespoons olive oil
1 tablespoon vinegar
2 cloves garlic
1 tablespoon coriander
Salt & pepper
What you do:
Put 4 wooden skewers to soak in water while you're preparing the kebabs.
Make the marinade:
Peel and crush the garlic; finely chop the coriander. Mix with the oil and vinegar and season well.
Prepare the kebabs:
Wash and dry the courgettes and cut each into 8 chunks. Core and de-seed peppers and cut each into 8 pieces. If you're using onions, peel and cut each into 8 pieces.
Thread all the vegetables onto skewers, and lay them in a shallow dish. Pour the marinade over, turning the kebabs to make sure they're well-coated. Cover the dish with clingfilm and leave to stand in the fridge for 2 hours if possible.
Cook under the grill or on a barbecue for 5-10 minutes, turning occasionally.
Cheesy Bubble and Squeak
Bubble and squeak is traditionally made from left-over potato and cabbage but this is good enough to deserve have potatoes and cabbage specially cooked!
What you need:
1lb potatoes - red ones like Desiree, or Wilja are good for mashing
½ lb green cabbage
1 leek
Olive oil
Salt & pepper
2 oz cheddar cheese
What you do:
Boil and mash the potatoes as normal. Shred the cabbage very finely and cook in boiling water for 4 minutes. Drain well. Mix in with the potatoes.
Wash the leek and slice finely including a little of the green top. Sauté the leek for a few minutes in the oil until it's soft. Add the potato and cabbage mixture and press it down to cover the bottom of the pan.
When it's been cooking for a few minutes. Turn it over to brown the other side. A non-stick pan will give you the best results but if the mixture sticks and it all ends up looking a bit of a mess, it won't matter.
If the handle of the frying pan can be put under the grill, leave the bubble and squeak in it and grate the cheese over the top. Pop it under the grill for a few minutes until the cheese is melted and bubbling nicely.
Alternatively tip the bubble and squeak into a heatproof dish, top with the grated cheese and put under the grill.
Provencal Baguette
What you need:
(For spread)
1 generous teaspoon garlic puree
6 medium pitted black olives
1 large ripe tomato, peeled, seeded, and diced
1 teaspoon balsamic vinegar
½ teaspoon oregano
½ teaspoon basil
½ teaspoon thyme
1 medium aubergine
1 courgette
Salt
1 red pepper, seeded, cored, and quartered
1 yellow pepper, seeded, cored, and quartered
Olive oil
Lettuce leaves (mixed)
1 French stick
Salt and pepper
What you do:
Slice the courgette and aubergine into about 8 pieces each. Put in a colander and sprinkle with salt. Leave them to stand to allow some of the bitter juices to be drawn out.
After 30 minutes or so, rinse well and dry on kitchen towel. Place the aubergine, courgette and peppers on the grill pan and brush with oil. Grill for about 5-10 minutes until lightly cooked.
Put all the ingredients for the spread into a blender and whiz to make a smooth paste. If you don't have a blender, mash the ingredients together well.
Cut the French stick into 4 pieces, then slice each lengthways, not cutting completely through. Open out the pieces of bread and grill the cut side very lightly.
Divide the vegetables between the four pieces of bread, arranging them on lettuce leaves. Spread the other side with the blended paste and close the sandwich.
Add a layer of thinly sliced brie or salami for extra interest.
You might also like...