Quiz: Does Cooking Style Influence Children's Eating?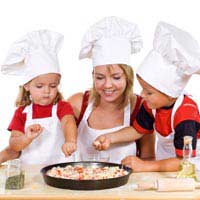 We all want our children to eat well and learn to love good food, but have you ever thought about how the way you cook and eat could influence the way your children respond to food?
This quiz explores some of the good and not-so-good ways that we can affect the way our kids view food and cooking and suggests some ways that you can improve their exposure to food and cooking so that they develop healthy attitudes and behaviours towards the food they eat.
Attitudes to Food
A. When you are offered a food you've never eaten before do you:
Decline politely– you prefer to try new things when you choose to, not have them thrust on you when you're not ready.
Say 'no way!' and mean it: you know what you like and all the weird stuff other people eat can't be that good or you'd have tried it before
Say yes and take a really big mouthful – you love new tastes and recipes.
B. You want your children to become involved in cooking so you start by:
Taking them on the weekly food shop and asking them to choose something they'd like to eat
Getting them to do the washing up after the meal
Inviting their friends round and saying you're going to have a cooking competition with a prize for the child who makes the best dish
C. You've cooked a big complicated dinner and your child says he or she isn't hungry and would prefer to just have a sandwich. How do you respond:
Tell them that they should eat the dinner you have made or nothing at all – it's silly to let children dictate what they will eat and when they will eat it.
Agree, with them and make them the sandwich of their choice
Say they must have at least a couple of mouthfuls of each part of the dinner and then they can go and make themselves a sandwich
Food Behaviour
D. Your family generally eats together:
About once or twice a week, usually on Sunday and one or two evenings a week when everybody is home
At Christmas and on birthdays – most of the time you all eat when you feel like it
Every night – family dinners are important to family stability.
E. And where do you tend to eat?
Sometimes around the table, sometimes with a tray on your laps, especially if there's something good on the TV that you all want to watch
In front of the TV, although the kids will often have food in their bedrooms while they play on their computer, Playstation or Wii
At the dining room table, with proper cutlery and table mats.
Special Occasions
F. Christmas and other big festivals can change our food behaviour – do you:
Have a few family favourites that you always make from scratch but buy in other traditional foods so that you can spend more time with your family and friends over the holiday period
Just do one really big shop and buy everything that everybody likes
Make everything from scratch, starting several months in advance.
Answers
If you answered mostly 1, you're doing a pretty good job of finding a food/life balance. Your children probably recognise that healthy eating is important, but don't have big issues around food and control. You can probably be more adventurous, perhaps by letting the kids decide more of the meals you eat, and by trying new foods more, but you're already getting most things right.
If you answered mostly 2, you might want to think again about the role food plays in your family. While your easy-going attitudes are great for preventing children having eating disorders, you could be doing more to instil a love of food in your kids: perhaps cooking a favourite recipe from scratch one night a week would be a good way to get you all involved in foodie matters?
If you answered mainly 3, it's possible that your love of food is alienating your children. Although you adore good food and care about its preparation, your perfectionism could be making your kids feel inadequate – pizza in front of the TV once in a while would show that you can relax your standards and perhaps you'd find that a night off cooking would allow you to appreciate your good food more as well.
You might also like...