Getting Children to Try New Foods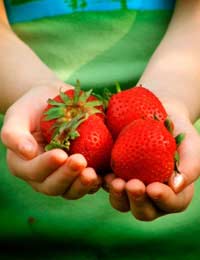 As parents we feel responsible for ensuring our children eat well and appreciate a wide range of healthy food, which can make us nervous and even angry when they don't cooperate with our plans.
So the first thing to recognise is that perfectly normal, healthy children can also be difficult eaters. There are three potential reasons for this: food allergies or sensitivities that we haven't recognised and acted on, young people can choose to proclaim their independence by eating foods they like and refusing those they don't, or they may have a different hunger pattern to the rest of the family so we may be forcing them to eat when we're hungry, not when they are.
Begin your journey towards eating new foods by ruling out allergies – sometimes gluten intolerance or other food reactions can make your child feel bloated or give them stomach ache. Your doctor will be able to reassure you that this isn't the case for your child.
Cooking And Growing Fruit and Veg Can Help With Eating
Visiting a farm or pick your own site can help children understand how foods are grown, picked and delivered to the shops – actually harvesting their own crops, for example, can really inspire kids to pick the nicest strawberries or peas for the family and then they feel proud about their contribution to dinner which means they tend to lead the way in eating what they've picked.
Even if you don't have a garden, growing foods like beans, blueberries or alpine strawberries and sweet cherry tomatoes in containers can allow otherwise indifferent children to get excited about food – tiny lettuces, radishes and carrots can be grown at home too, and making a baby salad from foods they've grown themselves gives children a real incentive to eat and enjoy the food. It also gives them skills in food growing, harvesting and preparation.
Make your child into a food expert by inviting a couple of his or her friends around and holding a tasting party. Choose four different apples, four kinds of orange such as Navel, Valencia, a tangerine and a clementine, four lettuces and some different types of melon or plum, and four cheeses. Display the foods prettily and encourage the children to comment on the taste and texture of each variety, giving marks out of ten. You'll be amazed how willing they are to try new foods if you write down their comments and take their preferences seriously!
Cooking is a wonderful way to entertain children as well as teaching them important life skills. Even the smallest children can wash vegetables in a bowl on the floor and sprinkle cheese on top of a pizza or shepherd's pie. Older children can be encouraged to make sandwiches and smoothies for the family, and teenagers often enjoy the chance to set the menu one evening a week and work with you to cook it. All these are ways to get children involved with food production and the more they know about the food you serve, the more likely they are to eat it.
Tips For Successfully Getting Kids to Eat New Foods
Don't force children to eat – their hunger is much more variable than ours and making them eat when they are not hungry can cause them to feel uncomfortably full. No child will starve, even if they don't eat for a day or a day and a half. If you are really worried about a child's eating pattern, keep a food diary for them for a week and take it to the doctor.
Keep trying – because it can take up to ten attempts to get foods into a child's diet. Give small portions cooked in different ways: for example you can offer steamed carrots and raw ones, pureed carrots as a dip, stir fried carrot strips with garlic and onion and carrot soup. The more a child sees a new food the more familiar it will become, so just try a new food once a week for a couple of months and don't pressure the child to eat more than a mouthful if they don't want to.
Add a new food to an old favourite – if you're child loves pizza, offer coleslaw as a side dish. If they adore chips, offer salsa as a dipping sauce – children are much more comfortable about a new food when it's served alongside something they already know they like.
Do it yourself – unless you try new foods regularly, your children won't believe that trying new foods is fun – why should they? Leading by example is the best way to get children to feel happy about trying new foods.
You might also like...