Simple Hot Plate Ideas for Cookery Session?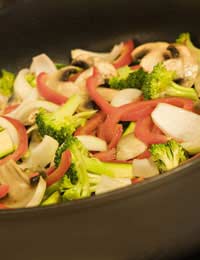 Q.
I have been asked to take a session on a simple, but healthy, cookery idea with approx 30 adults and children. It is over a 3 hour period so I am looking at something to last about an hour. The emphasis is on 'healthy' but I have now been told there won't be any ovens but I can use a few camping stoves and hotplates. Do you have any ideas please - especially as there is a budget?
I like the idea of the 'no cook' cake etc but am not sure it is healthy.
(J.B, 7 July 2009)

A.
The good news is that you can cook almost anything on a hotplate that you would cook on a stove-top or hob. First of all though, make sure you understand the safety risks involved in giving a cookery demonstration.
Safety
You need to make sure hot plates and camping stoves are placed a safe distance from observers, away from flammable substances and on a level surface.
Make sure you have a suitable fire extinguisher and fire blanket to hand.
Because cooking can spit and splatter, have a cloth handy to wipe up spills.
If possible do a trial run to see how long the hot plate takes to heat up and cool down as this will affect cooking time during the demonstration.
A healthy menu could involve a stir fry vegetarian dish with nuts for protein, accompanied by noodles cooked on a camping stove and followed by a healthy no bake cake.
Oriental Stir Fry and Noodles (Serves 2)
1 large chopped carrot 100 grams French or runner beans, sliced into fork-length pieces1 chopped red pepper 100 grams sliced mushrooms200 grams bean sprouts2 tablespoons reduced salt soy sauce2 tablespoons runny honey1 tablespoon sunflower oil100 grams cashew nuts30 grams sesame seeds1 packet medium egg noodles
Put a pan of water on the camping gas stove to boil for the noodles, when it is simmering heat the oil in a wok or frying pan on a hot plate and stir-fry the carrots, beans and pepper for 4-5 minutes.
Add the mushrooms and bean sprouts, soy sauce and nuts. Put the noodles in the water for 3 minutes while stirring the stir fry.
Drain noodles, arrange on a plate in a nest shape, pour the stir fry into the centre and garnish with sesame seeds before drizzling honey over the top.
No Bake Rich Fruit Cake
Most no bake cakes are definitely not healthy, but this recipe is healthier than most because it involves some high fibre fruit and healthy nuts with their antioxidant and 'good fat' levels. This cake does need to be 'made' the night before, but if you take it along in the tin, the children can use the nuts and peel to decorate the top as part of the demonstration so that they feel involved in making the cake. You can also halve these ingredients and make smaller cakes in paper cases during the demonstration for people to take home.
Cake
100 grams chopped dates
170 grams ground almonds (or 100 grams ground almonds and 70 grams ground hazelnuts for a sweeter cake)
225 grams Prunes (soaked in water)
3 or 4 pieces of preserved ginger finely diced
170 grams raisins
Topping
Apricot jam
50 grams candied peel
25 grams walnut halves
25 grams dried cherries
25 grams pecan halves
Rice paper (or if you can't find it, greaseproof paper)
Mix cake ingredients in a big bowl, then, blend roughly in a processor. Line a ten inc by six inch baking tray base with rice or greaseproof paper. Pour in blended mix and press down firmly. Leave overnight in fridge. Brush top with apricot jam before using topping ingredients to create an attractive pattern on the top, then slice and serve, removing the greaseproof paper first if used. Rice paper is edible. Should make 16 slices.
You might also like...