Cooking Christmas Decorations With Kids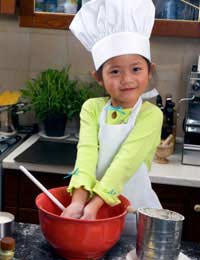 What better way to anticipate the holiday season than to spend an afternoon with your kids making decorations that will fill your home with the sights and scents of a traditional Christmas?
We've got three ideas here for you to help make this Christmas even more special.
Using the recipe given in 'Dough Ornaments' your children can make beautiful small Christmas wreaths that will be treasured and kept for years to come.
How to Make Dough Christmas Wreaths
You're going to make a plait so first divide a piece of dough into three equal pieces. Roll out each piece to the same length taking care not to make it too thin to avoid breakage. Use the palm of your hand rather than your fingers for rolling to achieve an even roll.
Lay the three side by side and squeeze them together at one end. Now plait them. Take one of the outside strands and place it over the central strand. Take the other outside strand and place over what is now the central strand. Continue along the whole length, trying to keep the knots even. Squeeze the ends of the three strands together and then squeeze together the two ends of the plait, shaping it into a circle as you do so. Where it joins, make a hole using a straw or a skewer.
Place on a foil-lined baking tray and cook at 120oC for about two hours or until completely dry, turning occasionally.
When it's cool, varnish the wreath. Allow it to dry thoroughly then varnish again. You might like to do a third coat as well for extra protection. It's not a good idea to let very young children do the varnishing, partly because they might not cover the ornament evenly and thoroughly, but mainly for their safety.
Take a 10" length of narrow red or green ribbon. Fold it in half and knot the two ends. Thread the loop through the hole at the top of the wreath, then pop the knotted end through the loop and pull until it's tight.
Using slightly wider ribbon, wrap it around the bottom of the wreath and tie a bow. Red and green tartan ribbon looks very festive and effective with the dough-coloured wreath.
And there you have it: a Christmas wreath ready to hang on the tree or on the fireplace.
This alternative dough recipe will bring the spicy scent of Christmas right into your home.
Although it will smell delicious, don't encourage children to eat this dough, which contains glue.
Cinnamon Stars
1½ cups of ground cinnamon
1 cup apple sauce (use a jar or make your own – see below)
¼ cup child-friendly glue
Mix all the ingredients together to make a thick cookie-type dough. Knead it until smooth then leave it to rest, covered with clingfilm, for about 40 minutes. Knead again and then roll it out between two sheets of greaseproof paper. It needs to be about ¼" thick.
Using a cutter – or do it free-hand if your child is very artistic! – make star shapes. With a straw or a skewer make a hole at the top of one of the points of the star.
Leave the stars between two clean pieces of greaseproof paper to dry. This can take up to a week so your kids will need to be patient! The stars will need to be turned over frequently to ensure they are dried right through and to stop them curling at the edges.
When they are completely dry, take a 10" length of narrow red or green ribbon. Fold it in half and knot the two ends. Thread the loop through the hole at the top of the star, then pop the knotted end through the loop and pull until it's tight.
And there you have it: the smell of Christmas to hang in your window or on your tree.
Apple Sauce
Peel, core and chop some apples, stew in a little water or microwave until soft. Mash or blend, or push through a sieve to give a smooth consistency.
Scented Apple String
These make lovely decorations as well as pretty gifts.
8 lemons
2 teaspoons salt
8 apples
8 teaspoons cinnamon
2 teaspoons allspice
1 teaspoon cloves
Squeeze the juice from the lemons into a bowl and stir in the salt.
Peel and core the apples and slice them horizontally so you end up with circles. They need to be about ¼" thick. You will need to help younger children with the cutting.
Put the apple slices in the lemon juice and leave to soak for 10 minutes. Stir them around occasionally to make sure that all the apple surfaces have a chance to absorb juice. Dry the slices thoroughly with paper towel.
Mix the spices in a plastic bag and shake the apple slices in the mix until well-coated.
Bake in one layer on a baking sheet at 50-100oC for about 6 hours or until completely dried.
Take a 15" length of jute (or rustic-looking string) and tie one end around 3 cinnamon sticks, then begin to thread on the apple slices. If you have some scraps of brightly-coloured fabric, you can tie them at intervals between the apple slices. When you are left with about 6" string, knot it around 3 more cinnamon sticks, and then finish it off with a hanging loop.
You might also like...