Fun Toddler Birthday Party Food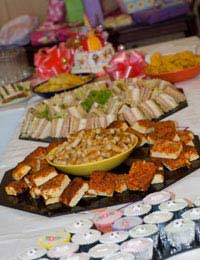 The key to a perfect toddler birthday party is to keep it simple. Young children can only take in so much at a time, and they find it easy to get overwhelmed. Having too much entertainment, too many guests or too many different types of food to choose from will only confuse and bewilder them.
If you want to make sure your little ones fill up as much as possible, make foods you know they like and ones that are instantly recognisable. Nothing puts a small child off more than being faced with something they haven't seen before, so minimise your chances of party melt-downs by sticking to a menu that's scrummy yet straightforward...
Finger Food
Preparing a meal for ten toddlers - or even more - is easier than you think. All children love finger food, and the preparation involved isn't that difficult. Here are some tried-and-tested toddler finger foods they'll all love:
Sandwiches
Have a variety on hand to suit every palette. You can't go wrong with cheese sarnies, jam sarnies and ham sarnies, with just a bit of butter on the bread. Using biscuit cutters to cut them into fun party shapes always goes own a treat, or cut them up into tiny triangles.
Slicing tortilla wrap sandwiches filled with different fillings into small circular Swiss-style rolls is also a good idea, as is serving toasted pitta bread with a selction of dips such as hummus or cream cheese.
Individual Mini Pizzas
Most small kids love pizzas, but few enjoy ones that are at all spicy. Refrain from purchasing the pepperoni, and stick to the plain old margheritas. Check out our recipe in the Kids Recipes category.
Fish Fingers
What you'll need:
Cod fillets cut into two-inch cubes
Bread crumbs
Vegetable oil
Seasoning or herbs, if desired
What you do:
Cut fillets into pieces and pat dry, then place in bowl with the seasonings (if using).
Heat a small amount of oil in frying pan.
Add breadcrumbs to fish, mix well. Shake off excess and place in frying pan one at a time.
Fry over medium heat until crispy golden without allowing them to stay in oil too long, drain before serving.
Fruit and Veg
Sliced cucumber, carrot served with a variety of dips make great snacks, as do platters of sliced fresh fruit, especially berries and grapes. Cut grapes in half if children under three are invited.
Delicious Desserts
The dessert is arguably the high point of any toddler birthday party. While all children look forward to blowing out the candles on the cake, that doesn't mean you have to limit your culinary aspirations to creating just one type of pudding.
Jelly Galore. All kids love jelly, and this traditional party dessert is a big treat for toddlers. Make rainbow jelly by filling cups one-third of the way with jelly, placing in fridge and allowing to set, then adding more. You can also add chunks of fruit, or jelly sweets if desired.
DIY Fairy Cakes. Let the kids decorate their own with bowls of icing and a variety of sweets and edible decorations.
Ice Cream Faces. Give each child a plate and place a scoop of ice cream in the middle, with a waffle cone placed upside-down on top for a hat. Allow them to decorate the "face" with sweets for eyes, nose and mouth, and jelly worms for hair. Edible and fun!
Top Tips
While they may be more expensive, juice boxes are best with toddlers as they reduce the risk of spillage. Have enough adults on hand to open each box and put the straw in, or you may be facing a flood!
Don't forget that you will also need a tiny-sized table and chairs to accommodate your little guests. Eating off a big table and falling off a big chair can ruin the atmosphere.
Children of this age usually have their parents accompany them to parties, so make sure you have some basic food and drinks on hand for adults - unless you want them scoffing all the kids' food!
Toddler party food can be made quick and easily, but that doesn't mean it has to be bland or boring. Use a bit of creativity to transform food your toddler normally eats and enjoys into fun and tasty party snacks. It can be done!
You might also like...