Using Colour in Kids' Food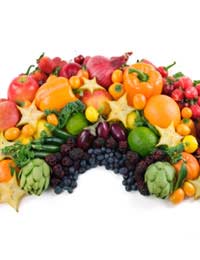 Children love colour in food and a good way of getting them to experiment with new tastes and flavours is to give them food 'projects' or 'adventures' that lead them to feel success and achievement when they produce the finished recipe.
Rainbow foods are ideal for this as their bright colours appeal to the eye and you can give little science lessons about what a rainbow is during the creation of the dish.
Baby Rainbow Dips With Pots Of Carrot Gold
Everybody knows you find a pot of gold at the end of the rainbow, but this recipe, as well as helping very young children learn basic colours, is rich in healthy nutrients that encourage growth and development. It's also a lot of fun to eat.
Ingredients
1 red pepper, deseeded and cut into lengths
1 carrot, peeled and cut into batons
1 yellow pepper, deseeded and cut into lengths
1 green pepper, deseeded and cut into lengths
1 purple pepper (if you can find it in the supermarket) deseeded and cut into lengths. Alternatives include purple grapes or raisins)
200g cooked carrot
50g full fat soft cheese (very young children shouldn't have low fat dairy options unless under medical advice as they need the fats to support their rapid growth and energy use)
Method
Put the cooked carrots in a blender with the soft cheese. Blend until completely smooth and place in a small pretty bowl or ramekin to serve as the pot of gold at the end of the rainbow.
Find a large plate or platter and a picture of a rainbow. Help your child to lay out the peppers and raw carrot on the plate to make a rainbow shape and put the pot of gold underneath.
Now take it in turns to call out rainbow colours and dip foods in the pot of gold before eating.
Optional, if using grapes or raisins, some fromage frais with pureed blueberries to make a pale blue cream in which to dip the sweeter foods, this also gives you a 'blue' for your rainbow.
This recipe teaches colour and shape recognition and is ideal for toddlers to fives.
Rainbow Bread
For older children, say eight and up, this recipe is not only fun, it teaches valuable lessons about food preparation, timing of recipes and presentational skills.
Ingredients
500 grams white bread doughExtra flour for dustingAround 5 drops each of red, yellow, green, blue and purple food colourBlue poppy seeds, caraway seeds, pumpkin seeds, pine nuts and a pinch of red chilli flakesVegetable oilA 500 gram (1lb) loaf tin
Method
Make the dough and let it rise. Then divide it into five equal sections.
Starting with the yellow, add the food colour to one-fifth of the dough, along with the pine nuts and get your child to knead the ingredients until the yellow dye is completely mixed and the pine nuts are distributed through the dough. Now mix the red colour and a few chilli flakes into another piece, the pumpkin seeds and green colouring into a third, the blue poppy seeds and blue food dye into a fourth and the purple food colour and caraway seeds into the final piece.
Flatten each piece until it is around the same length as the loaf tin and then stack the pieces on top of each other in red, yellow, green, blue, purple order. Oil the loaf tin and place loaf inside, leaving it to rise for an hour. Bake at 350 F/180 Celsius in a preheated oven for around 25 to 30 minutes. Slice and enjoy!
You might also like...