Fairy Food: Miniature Food for Parties and Picnics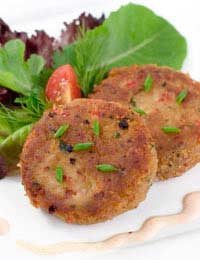 Children love miniature food but cooking it can seem daunting. These delicious but easy-to-make recipes will earn junior cooks oohs and aahs when served at parties or packed in hampers for picnics.
To make the most of tiny food, serve it on brightly coloured plates with other miniature accessories such as tiny bunches of violets as flower displays or little cake candles in tiny holders to mimic 'grown-up' candles. Dolls house shops often have miniscule toys that you can strew on the table or picnic cloth to add to the miniaturised impression.
Teeny Tiny Fritattas
Ingredients
1 medium courgette
4 to 6 mushrooms
1 red pepper
1 yellow pepper
12 eggs
1 tablespoon chopped chives>
75 grams finely grated Cheddar or Gruyere
Vegetable oil
1 teaspoon salt or two teaspoons light soy sauce
Freshly ground pepper
Method
Oil two 12-cup fairy cake tins and set aside while oven heats to 200C/400F/Gas 6.
Slice courgette into thin slices along with mushrooms and core, deseed and chop the peppers.
Whisk the eggs, seasoning and chives together. Lay the vegetables in the 24 greased tins and carefully spoon the eggs into each compartment, until just below the rim before sprinkling with some of the cheese. Cook for eight to ten minutes – if you used soy sauce the egg blend will take longer to cook so give it the extra time. Serve cold.
Smoked Salmon and Dill Baby-Cakes
Ingredients
250 grams potatoes – floury ones such as King Edwards will work best
2 tablespoons cream cheese
200 grams smoked salmon (can be pieces rather than a side or slice)
2 tablespoons fresh dill, chopped
Zest of one lemon
Fresh breadcrumbs – around 4 tablespoons should be enough
½ tablespoon horseradish sauce
Salt and pepper
Olive oil for greasing
Method
While you preheat the oven to 200C/400F/Gas 6, peel and boil the potatoes until soft.
Drain and cool for five minutes and then mash with cream cheese. You can use a hand-blender for this.
Chop the salmon and stir it into the mashed potatoes with the dill, lemon zest and horseradish. Taste before seasoning with salt and pepper – the salmon contains a lot of saltiness and you may not need much more.
Roughly shape the mixture into walnut-sized balls. Coat with breadcrumbs and place on an oil cooking sheet, flattening them slightly as you do.
Cook for 12 to 14 minutes, turning after six minutes or until golden.
Serve hot with a tomato dipping sauce or cold with mayonnaise.
Mini Cappuccino Chocco Mousses
Serve these in tiny demitasse coffee cups, or even shot glasses, to make them properly miniature.
Ingredients
170 grams dark chocolate
1 teaspoon cold coffee
4 large eggs, separated
Method
Melt the chocolate in a heatproof bowl over a pan of simmering water or using low heat in the microwave, ensuring it doesn't scorch. Set aside to cool.
Whisk the egg whites in a large bowl until they form soft peaks.
Gently beat the coffee into the egg yolks and stir thoroughly to the cooled melted chocolate.
Pour the chocolate mixture into the egg whites and fold together gently with a metal spoon.
Spoon into coffee cups or shot glasses – will make between eight and twenty, depending on the size of the container. Chill for two hours in the fridge. Decorate with a single coffee bean.
You might also like...