Kitchen Equipment for Kids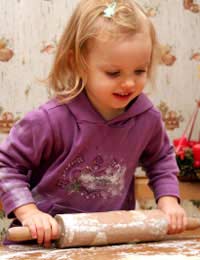 Kids love to do what they see grown-ups doing, so if you're cooking in the kitchen that's what they'll want to be doing too. One way to encourage them and maintain that early interest is to buy them their own utensils and equipment.
Nowadays there is special equipment available for every sort of kitchen task from the most basic knife to near-professional-style ice-cream makers. What you provide for your kids will, of course, depend on how interested they get. A four-year-old might be a bit confused if presented with a bread-making machine, but would quickly work out that a rolling pin was for bashing things!
And a rolling pin is a good place to start. If your child's played with modelling dough, he'll already have a good idea of what to do. Buy a selection of cookie cutters to go along with it. As well as straight-edged and fluted round cutters, look for some of the more interesting shapes like hearts, stars, letters, and numbers, as well as the speciality cutters in the shapes of wizards or angels, hands or feet. You'll be able to find a wide range in a specialist cookshop or on the internet.
The cookie cutters and rolling pin will facilitate an afternoon's baking, with toddler being able to copy everything mum does. Add a sieve for flouring the worksurface (and the floor, and his clothes!) and he'll be well on his way. See 'Cookies and Biscuits' for some ideas of things to bake.
Moulds
Every home with children in it should have ice lolly moulds. Ideal for cooling thirsty kids on a hot summer's day, you can make them with your kids' favourite juice or yogurt. Don't forget to stock up on lolly sticks when you buy the moulds, available from supermarkets or cookshops.
Also in cookshops you'll find small shaped moulds for chocolate. Simply melt some of the kids' favourite chocolate and use it to fill the moulds. Add a few crispy rice pops, raisins or chopped nuts for variety.
Baking
A mixing bowl is next. Don't buy a huge china one: a medium-sized plastic one will be perfect for the beginner. If it's too big, your child will struggle to manage it; on the other hand, if it's too small, you'll find mixture slopping out over the edge as she stirs it enthusiastically. Add a plastic spatula for scraping out the bowl, and a balloon whisk for beating the eggs, and then get stuck into some of our 'Cakes'.
If your child is showing a serious interest in cooking, you might like to buy a hand-whisk. The problem with using one of these or the electric version is that your child needs to be in control of the bowl at the same time otherwise it will go sliding around and could tip up. But that's where you'll come in: to hold the bowl steady and prevent it tipping it over no matter how enthusiastically the mixer is wielded!
Food Preparation
As we explained in 'Teaching Kids Food Hygiene', a set of chopping boards should be kept and used for different foodstuffs, such as raw meat and vegetables. It's important to get your child used to that idea early on.
You'll be the best judge as to when your child is ready to use knives and to help with the food preparation. Some foods, like banana, can be cut using 'blunt' knives but for most foods a sharp knife is better: it's less likely to slip or to go the wrong way. Teach your child early on the safe way to hold a knife (Kitchen Safety for Kids).
Blender
One piece of kitchen equipment we've suggested using on many of these pages is the blender or liquidiser. Used properly, a blender is perfectly safe; used unwisely and it can result in chopped-up fingers!
Whether they're making smoothies or dips, your child will want to use the blender – and there is something fascinating about the way a number of separate items combine to make a completely different product – so make sure she knows how to use it, and what and where the danger is.
And Finally…
Don't forget the apron! One vital piece of kitchen equipment for kids!
You might also like...