Recipes for Food that Looks Beautiful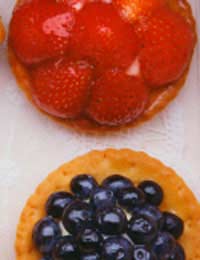 Food that looks good and tastes great is easy to cook with these impressively attractive dishes that are also delicious to eat.
Ripple Bread
500 grams strong white flour (plus extra for kneading)
1 teaspoon salt
7 gram sachet of fast-action yeast
3 tablespoons olive oil (plus extra for greasing)
300 ml hand warm water
Handful sun-dried tomatoes
Tomato puree
Method
Blend flour, salt and yeast in a large bowl before making a well in the centre. Add oil and water mixing well. It may seem a little stiff but one half of the dough is about to become more liquid so don't be tempted to add more water. Place on a lightly floured work surface. Knead until the dough is smooth, then divide in two.
Place each half in a lightly oiled bowl, add finely chopped sun-dried tomatoes and two heaped teaspoons of tomato puree and knead again. Leave both bowls to rise for an hour until doubled in size (or place in the fridge overnight).
Knock back both doughs – stretching them to a large rectangle shape - then lay the tomato one on top of the plain one and roll them up, Swiss roll style, before putting on a greased baking tray to prove for a further hour – they will double in size.
Now heat the oven to 220C or gas 7. The bread needs to be baked for 25-30 minutes until golden brown and hollow sounding when tapped. Cool the loaf on a wire rack. When sliced this loaf looks fabulous and has a rich tomato flavour, ideal for sandwiches.
Layered Mexican Salad Recipe
This salad looks really gorgeous when layered in a tall clear glass bowl. It's suitable for creation by older children while very young ones can help with the uncooked ingredients while you prepare the beef. It serves six.
1 chopped onion
1 finely minced garlic clove
500 grams minced beef
1 packet taco seasoning
A pinch of salt
large chopped tomatoes
1 large iceberg lettuce, shredded
100 grams grated Cheddar cheese
1tin kidney beans, drained
Chives for garnish
Avocado Dressing
1 ripe avocado, peeled and pureed
1 thin sliced onion
75 ml water
2 tablespoons lime juice blended with 2 tablespoons sour cream
Method
In a large frying pan, stir fry the onion, garlic, and minced beef until the onion is translucent and the beef is fully browned. Blend in the taco seasoning. Drain of extra fat or fluids and set aside to cool.
While cooking, make the dressing by blending the water into the juice and cream and then stirring the liquid into the pureed avocado along with the onion.
Now assemble the salad – put half the tomatoes in the bottom of the dish, then a layer of the shredded lettuce, half the cooled beef mixture, some cheddar cheese and half the kidney beans. Repeat the layers and then spoon the avocado dressing over the top and decorate with chopped chives.
Rainbow Beauty Fruit Tarts
This stunning pudding can be constructed by the smallest child as long as you do any slicing of fruit that's necessary
24 tart shells, baked and cooled or bought ready-made
125 grams cream cheese
125 grams condensed milk
30 ml lemon juice
2 teaspoons vanilla extract
For Garnish
Kiwi fruit
Strawberries
Peeled and separated mandarin oranges
Blueberries
Method
Beat the cream cheese until soft in a large bowl and slowly pour in the condensed milk, lemon juice and vanilla, beating until it is all smooth.
Divide the cream between the tart cases and put into the fridge for three hours to set.
Wash the fruit and peel and slice as necessary. Lay elegantly on top of the chilled cream, repeating the same pattern on each tart.
You might also like...