Encouraging Kids to Help Make Dinner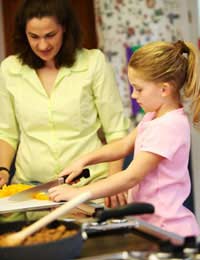 How do you encourage your kids to help you cook dinner? And what's the point? Isn't it quicker to do it on your own?
Why Encourage Kids to Cook
Yes initially, it probably will mean spending longer in the kitchen but there are lots of good reasons for it. First and foremost is that they can occasionally give you a break! Okay, maybe that's not the most important, but it is valid. We all get fed-up of cooking sometimes and would just love for someone else to do it for us.
But, by encouraging your kids to cook, you're teaching them valuable life skills. At some point they'll leave home, and if all they can do is heat baked beans in the microwave, their diet is going to be very limited – or expensive if it relies on takeaways.
Being able to cook a meal for friends is an asset as well as a pleasure, and, for either sex, an attractive quality.
But if you've visited this web page, you're probably already convinced of the need to teach your kids to cook so let's look at how to go about it.
Start Young
First thing is to start young. Having them in the kitchen with you while you're preparing food is good as long as they're not in any danger from hot pans or boiling water. See 'Kitchen Safety for Kids'.
But if you can involve them in what you're doing and make it fun, then they'll be well on their way to seeing cooking as a joy not a chore.
If you're making pastry, make a little extra so they can roll it out and make their own jam tarts; if you're making cakes, let them have a stir, sieve the flour, beat the eggs. Get them used to using simple kitchen equipment.
Explain what you're doing as you're going along. Even if they don't seem to be paying attention, you'll be surprised what sticks in their minds!
Useful Tips
As they get older, they can be more involved, here are some useful tips and ideas:
Preparing vegetables and weighing ingredients, for example, ask for suggestions for dinner and discuss what ingredients you need to buy.
Go on a shopping trip. In the supermarket, let them choose fresh vegetables, fruit and bread, as well as which crisps they like! Show them how to tell if a melon is ripe (by pressing lightly on the end: it should 'give' a little) or if carrots are past their best.
Involve them in planning a special dinner, a vegetarian meal, an Italian evening.
Suggest they make a cake for grandma – or let them ice one (buy ready-to-roll icing and tubes of coloured gel).
For the very young, simple is best. Try anything too complicated and they'll lose interest and you'll end up doing extra work and more clearing-up than usual! As they get older, you can be more inventive and leave more to them.
Have a baking afternoon, creating biscuits and cakes, trying different recipes, asking which ones they prefer.
Suggest they make snacks for themselves or the whole family, then lunch, or a big breakfast. Get them to help you in the preparation of dinner.
When they come home after a day in school, most kids just want to flop in front of the television, so weekends are probably the best times to get them more involved.
When they're finally ready to cook dinner for the family, let them plan it – only stepping in if they're thinking of Russian caviar, French truffles, and fillet steak!
Be there to guide and advise but try to let them get on with it themselves – even if you have to bite your tongue!
Suggest they lay the table nicely so you can sit down to eat together, including some flowers, napkins, drinks, best cutlery and china. Make a big deal of it, a special occasion; linger over the food, commenting on it. Be encouraging!
And don't forget to make sure they wash up afterwards. That's an important part of cooking that they need to learn too.
But after all this, don't blame us if you end up with another Jamie Oliver on your hands!
You might also like...