Main Courses - Red Meat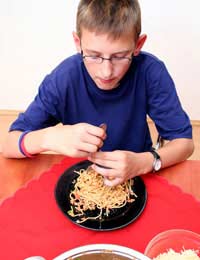 There can't be many kids who don't love spaghetti bolognese. As one of the easiest meals to prepare it's a good one to start with when you're learning to cook. And it will definitely stand them in good stead when they leave home as it's simple to increase quantities - or convert into a chilli - to feed a houseful of friends.
Curries are the same. Learn the basics, and your kids are set for a whole new world of meal creation.
The final recipe we have here can be adapted for as many as required or the barbecue sauce can be used on its own, so let's get started.
Bolognese Sauce
What you need:
1lb mince (buy lean or steak mince, or try lamb mince for a change)
1 large onion
1 carrot (optional)
1 stick celery (optional)
1 clove garlic
1 tin tomatoes
½ pint beef stock (made from a cube)
2 tablespoons tomato puree
1 tablespoon tomato ketchup
Worcestershire sauce
Salt & pepper
4 oz mushrooms
1 teaspoon oregano
What you do:
Peel and finely chop the onion and carrot. Wash, trim and chop the celery. Peel and crush the garlic. Wash and slice the mushrooms.
Now brown the mince. Preheat a large frying pan but don't add any oil. Put the mince in and stir it continuously turning it over until it is well-browned. Drain away most of the excess fat that has come out of the meat, leaving just a little.
Add the onion, carrot, celery and garlic. Mix all together and leave to cook, stirring occasionally for 5 minutes.
Add the tomatoes, tomato puree, tomato ketchup and a dash of Worcestershire sauce. Season lightly. Stir well, bring to the boil and then simmer for 20 minutes. Add the oregano and mushrooms and cook for another 20 minutes.
Serve with pasta and crusty French bread.
Lamb Roghan Josh
Even young children eat curries these days so what better way to encourage their taste buds than to get them to help you make a rich, exotically-perfumed but simple lamb curry?
What you need:
1lb lamb pieces (alternatively buy some neck fillets and cut them into chunks)
2 onions, finely chopped
Oil
1 heaped tablespoon Roghan Josh curry paste
1 tin tomatoes
Fresh coriander
What you do:
Preheat the oven to 160oC, gas mark 2 - 3.
Heat the oil in an over-proof pan. Add the onions and fry over a low heat until they're soft. Add the meat, turn up the heat and stir the meat around so that it browns on all sides.
Stir in the curry paste and cook for 1 minute.
Stir in the tomatoes. Fill the empty tin with water and add that to the pan as well. Stir thoroughly then cover and cook in the oven for 2 hours or longer. The meat should be just falling apart. You may need to add a little more water during the cooking process.
Serve sprinkled with fresh coriander.
You can use a different curry paste or powders or mix your own spices. Experiment, adding cream or coconut milk. Roghan Josh has quite a strong flavour; your kids might need to be used to curries before trying this one.
Ribs in Barbecue Sauce
Pork has to be well-cooked and sometimes that can equate to dry and tasteless. Well, here's one recipe that certainly isn't tasteless but is simple to prepare and delicious to eat.
What you need:
Ribs – as many as you need – allow three or four per person depending on appetites
Salt
For the sauce (this quantity is enough for 1½ lbs ribs):
1 onion, finely chopped
Oil
4 tablespoons tomato ketchup
2 tablespoons vinegar
1 tablespoon brown sugar
2 teaspoons mustard powder or 1 teaspoon of ready-made mustard
1 tablespoon Worcestershire sauce
What you do:
Preheat the oven to 200oC, gas mark 6.
Put the ribs in a large baking tray and sprinkle with salt. Cook for 30 minutes.
While that's happening, make the sauce. Fry the onion in a little oil until soft. Add all the remaining ingredients and stir well.
At the end of the 30 minutes, drain off the excess fat. Lower the oven temperature to 180oC, gas mark 5; cover the ribs with the sauce and cook for another 40-50 minutes.
Delicious finger food. As long as there is kitchen towel on hand to wipe fingers afterwards!
You might also like...