Healthy Snacks for Kids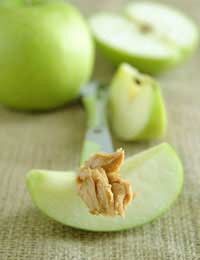 Snacks! Not what we should be encouraging our kids to eat surely?
Well most nutrition experts agree that snacking is part of a healthy diet. Kids especially need a regular top-up of energy to replace what they use in the adventure of everyday life. Kids have small stomachs but big appetites! And that top-up should be as healthy as possible.
Healthy snacks. Now that almost sounds like a contradiction in terms...
A healthy snack should add something- as well as energy – to a child's diet. That could be anything from vitamins e.g. vitamin C from an orange, to fibre e.g. from a slice of wholemeal toast. Low-fat cheese and meat – not processed – are also useful snack-builders.
How to Make a Simple Trail Mix
Good to dip into while watching television and so full of nutritious goodies, this bag practically walks by itself!
What you need:
An airtight bag. Most supermarkets sell resealable plastic sandwich bags that are ideal for this.
Nuts
Dried fruits
Crispy whole wheat cereal flakes
What you do:
Take a handful of each ingredient and toss them together in the bag. Don't give nuts or nut butters to children under 5 years of age, as they can cause allergic reactions or be choking hazards.
Peanut Butter Apples
Cut an apple into chunks and spread with peanut butter – a good source of protein – for another very simple snack.
Cheesy Dip
What you need:
A tub of low-fat cream cheese
Apple chunks
Breadsticks
Carrot sticks
Celery
What you do:
Put the cheese into a microwavable bowl and heat on a low setting until it's soft and runny. Use as a dip for the fruit, vegetable and bread sticks.
Smiley FaceToasties
What you need:
Wholemeal bread
Low-fat cheese, grated
Tomato ketchup
What you do:
Lightly toast the bread on each side. Cover one side with grated cheese, and draw a smiley face in tomato ketchup. Pop it back under the grill for a minute or so to allow the cheese to melt and bubble.
As the kid's tastes develop, they can experiment with more adventurous snacking.
Bruschetta
What you need:
8 thin slices French stick or Ciabatta
Light olive or sunflower oil spread
1 clove garlic
3 large tomatoes
1 small red onion
Black pepper
Handful basil
What you do:
Preheat the oven to 200oC, gas mark 6.
Lightly cover each side of the bread with the spread. Peel the garlic clove and cut it in half. Rub it over both sides of the bread. Place on a baking tray and cook for 15 minutes.
While that's cooking, peel and chop the tomatoes. (The best way to peel tomatoes is to put them in a bowl and cover them with boiling water. Leave for a few minutes then rinse under cold water, before pricking the skin with a knife tip. It should begin to peel easily.)
Peel and chop the onion into very small pieces. Mix with the tomatoes, some shredded basil leaves and a sprinkling of pepper.
When the bread has been cooked for 15 minutes, remove it from the oven. Share out the tomato mixture putting some on each slice of bread. Return to the oven for another 5 minutes.
Tasty Pitta Pockets
What you need:
1 pitta bread for each person
Lettuce, shredded
Salsa sauce
Low-fat cheese, grated
Cooked meat – you can find spicy cooked meats in the fridge in most supermarkets
What you do:
Using a knife, slice open one side of the pitta bread. Put some lettuce in the bottom, followed by meat and sauce, and then top with a sprinkling of grated cheese. You can use tomato ketchup or chutney in place of salsa sauce.
You might also like...